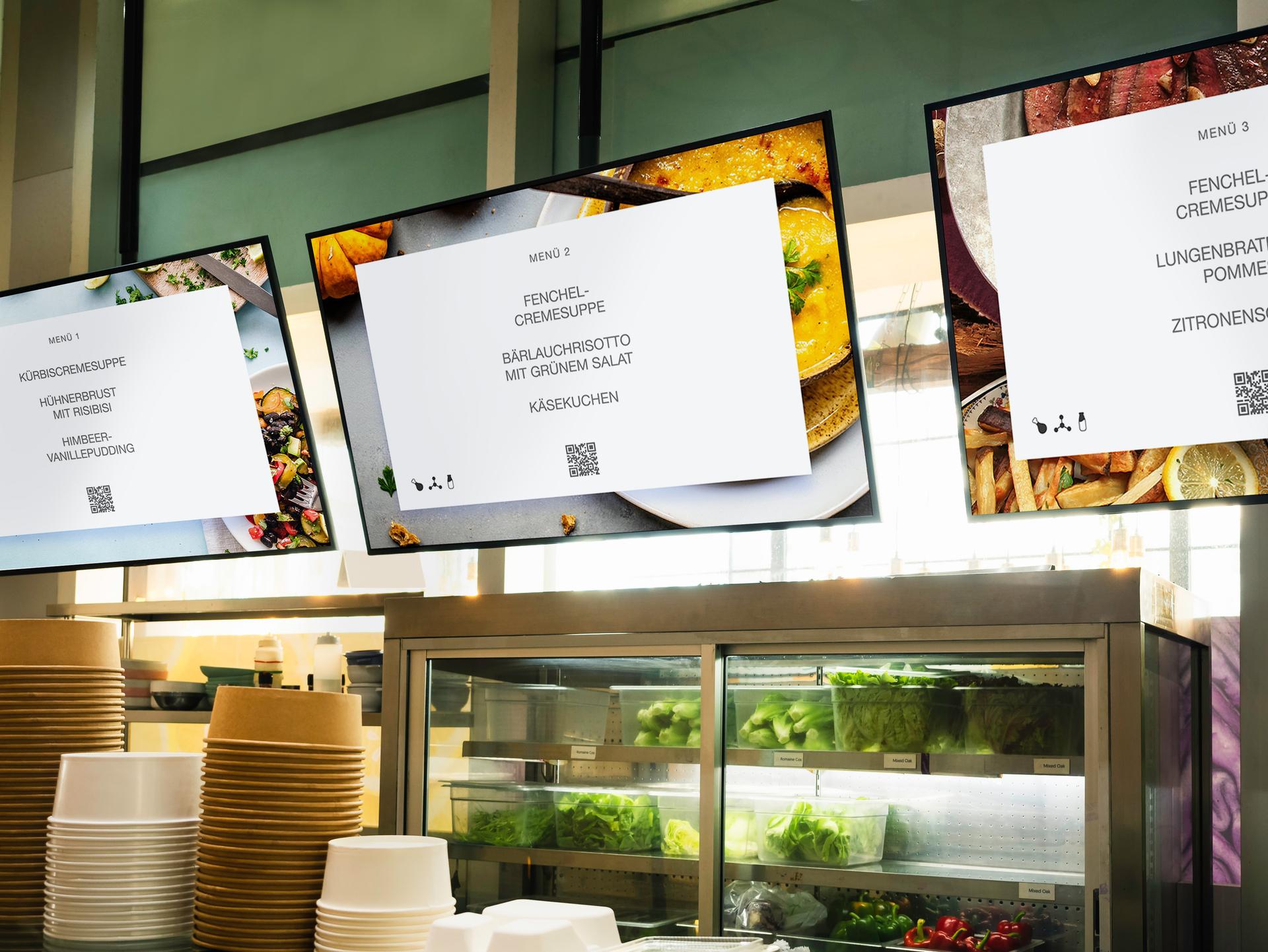 The hospitality industry is in a constant state of change. One of the most important goals for restaurateurs is to provide guests with a memorable experience while increasing the efficiency and profitability of their operation. One of the latest developments that supports this goal is the digital menu scoreboard.
A digital menu scoreboard is an electronic display that offers a modern alternative to traditional printed menus in restaurants and cafes. These scoreboards can be installed on various devices such as tablets, touchscreens, or even large format screens near the entrance or inside your restaurant. By using digital menu scoreboards, you can present your guests with a dynamic, interactive and engaging menu that can be updated and customized in real time.
The advantages of your
meal plan scoreboard from Contidata
Environmental friendliness
One of the most obvious benefits of the digital menu scoreboard is its environmental friendliness. Unlike physical menus that need to be disposed of and reprinted on a regular basis, digital scoreboards do not cause unnecessary waste of paper and printer ink. This is not only good for the environment, but also for your budget, as there are fewer ongoing costs for printing materials.
Real-time updating
With digital menu scoreboards, you can update your menus instantly to reflect changes in ingredient availability, prices, or seasonal offerings. This is a significant advantage over printed menus, where updating is often time-consuming and costly. This allows your foodservice operation to respond quickly and easily to the needs of your guests and the demands of the market.
Adaptability and personalization
Digital menu displays offer great flexibility in terms of design and presentation. You can easily customize the appearance of your menus to make them more appealing or tailor them to specific audiences. In addition, menus can be personalized by adding, for example, special daily offers, event information, or information about allergens and dietary needs.
Increased efficiency
Digital menu scoreboards can significantly increase the efficiency of your operation. For example, orders can be taken directly from guests via the menu and forwarded to the kitchen, reducing the workload for service staff. This can also help minimize order-taking errors and improve overall guest satisfaction.
How does the conversion work?
Before a digital menu display can be implemented, it is important to select the appropriate technology for the operation in question. This can range from simple tablets or touchscreens to large format displays or interactive kiosk systems. Factors such as the size of your operation, budget, desired functionality and target audience should be considered.
Our consultants will discuss the options with you in a brief, free initial meeting and put together an individual solution based on your requirements.
To ensure a smooth process, the digital menu solution is optimally integrated into existing systems such as the POS system, the kitchen organization or the customer loyalty program. This enables efficient communication between the different areas of the operation and ensures a seamless experience for your guests.
Get advice now without obligation
Simply fill out the form below - straightforward and without obligation. We look forward to assisting you with your project.
Frequently asked questions
Which industries does Contidata support?
Our products are independent of the industry. We work with large customers in the banking and insurance & manufacturing sectors as well as with medium-sized and small companies. In addition, we offer solutions for hospitals, educational institutions, caterers and vending machine operators, among others.
I have very specific requirements - can the systems be customized?
Yes, just talk to us about your particular application and we will find the right solution for you.
Where can I use the system?
From small cafeterias to large kitchens, we deliver customized solutions for every application.
Is the consultation without obligation?
Yes, the first consultation is free of charge and completely without obligation.