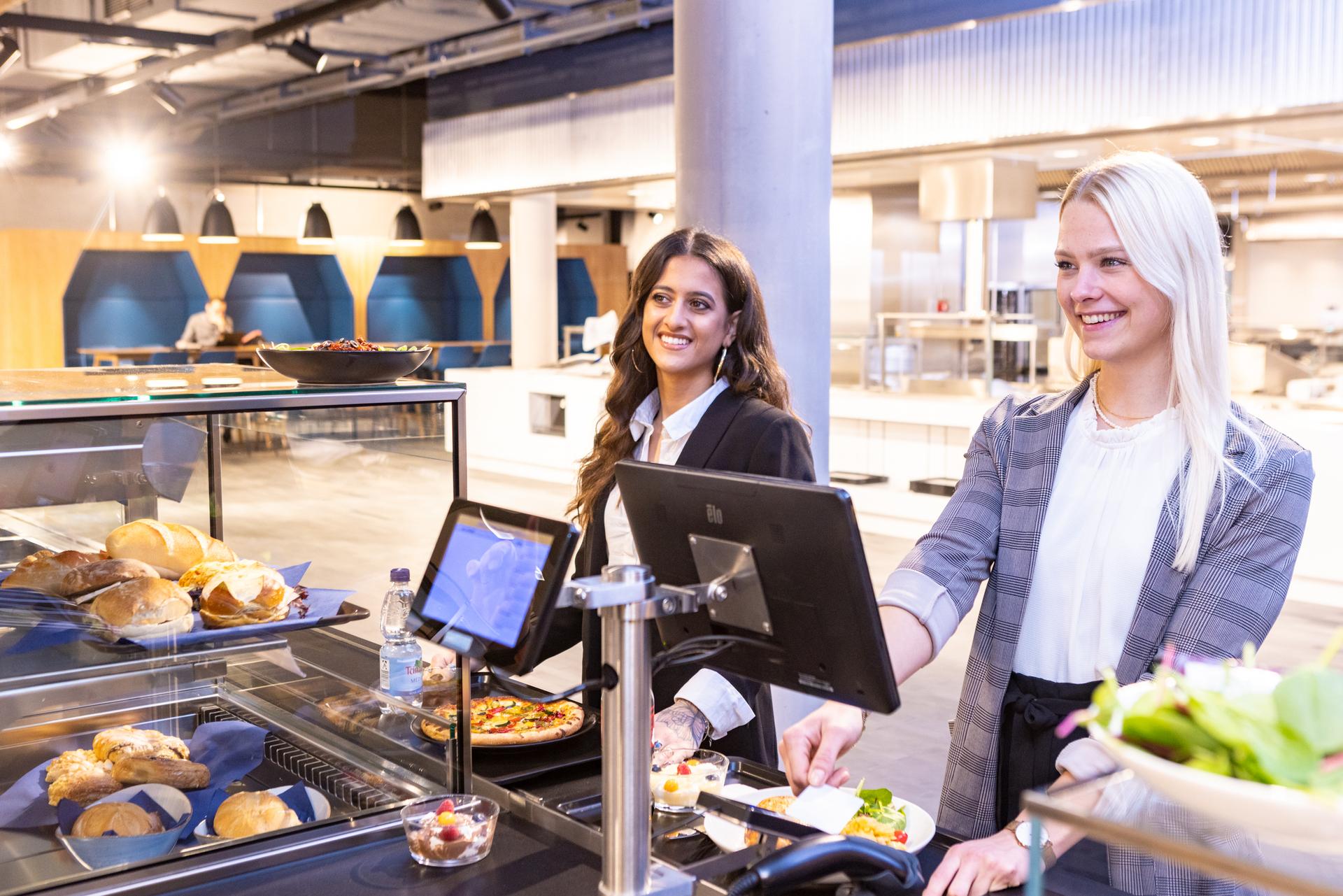 contidata
Cash Register System for
Company Restaurant & Canteen

Lively community in the company restaurant
The company restaurant is an important part of many people's everyday working lives. It offers your employees the opportunity to fortify themselves during the workday and escape the hustle and bustle of the office for a moment - without having to leave the company premises.
The cozy get-together in the cafeteria can improve the sense of community and well-being among the workforce across titles and departments. For you as an employer, this usually means higher employee retention as well as increased morale.
As a leading provider of POS systems for company canteens, we have seen ourselves as experts in creating effective communal catering concepts for many years and will help you find exactly the solution you will love your employees for.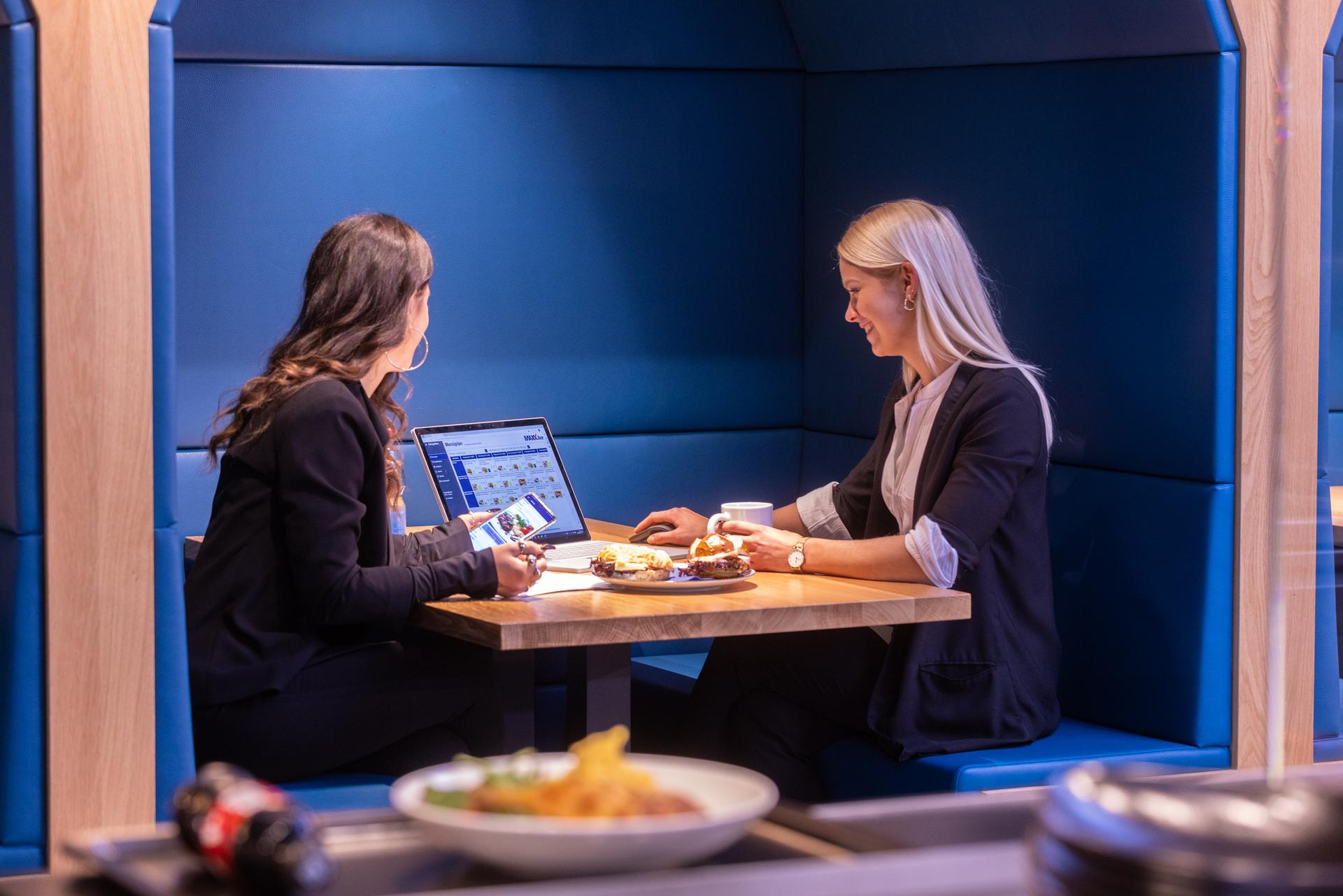 The Contidata POS system for your company catering
Our corporate catering solutions are designed to make serving food and beverages as easy, enjoyable and efficient as possible. We believe that the right catering system can be a real asset to a business and see our work as a valuable contribution to improving the quality of life in the workplace.
Advantages for
your employees
Efficiency saves time and nerves
No one wants to spend most of their break time standing in long lines or searching for the right change at the counter. Checkout at Contidata POS systems is child's play and, if required, even fully automatic without sales staff.
Cashless checkout in the canteen
Since COVID-19 at the latest, cashless payment has become indispensable in canteen catering. Many people now prefer contactless payment methods to ensure the health and safety of themselves and others. EC card terminals as well as reloadable credit cards make cashless payment in your canteen a breeze.
More about self-service systems
Easy menu selection and pre-ordering
To shorten the wait for food at peak times, your employees can view the menu in advance (including ingredients and allergens) and select the desired menu for the day. Pick-up is then simple and straightforward at the pre-ordered time.
Advantages for
companies
Central management and full control
In our central user interface, all sales of meals and beverages are recorded, inventories are displayed, and revenues are accounted for. Operation is simple and intuitive, so there is no need for long training periods for sales staff.
Expandable and easy to integrate
Our systems are constantly adapting to your needs and can be expanded whenever you need them. Installing additional cash registers, menu enhancements and even integrating with your existing accounting or merchandise management system is no problem.
The most secure & reliable POS system on the market
All our solutions are fiscal and GoBD compliant. All recorded data, whether personalized or not, is always transmitted in encrypted form. In addition, our cash registers remain operational even if the Internet fails, because the integrated offline mode allows immediate operation until the Internet connection is available again.
Cash register technology and peripherals at the highest level
Your Contidata company cafeteria grows with your company:
From the single point of sale to the cross-site cloud solution.
Compact POS system: The ergonomic total solution for company restaurants
Our Compact POS system is the basis for every point of sale in your company restaurant. It is the connecting piece between all peripheral devices and represents the operating surface for the central control software. Subsidy as well as subsidy granting and ETN counting can also be easily mapped with our Compact cash register.
Advantages at a glance:
Processing of up to 14 guests per minute
100% legally compliant data processing
Fail-safe thanks to offline mode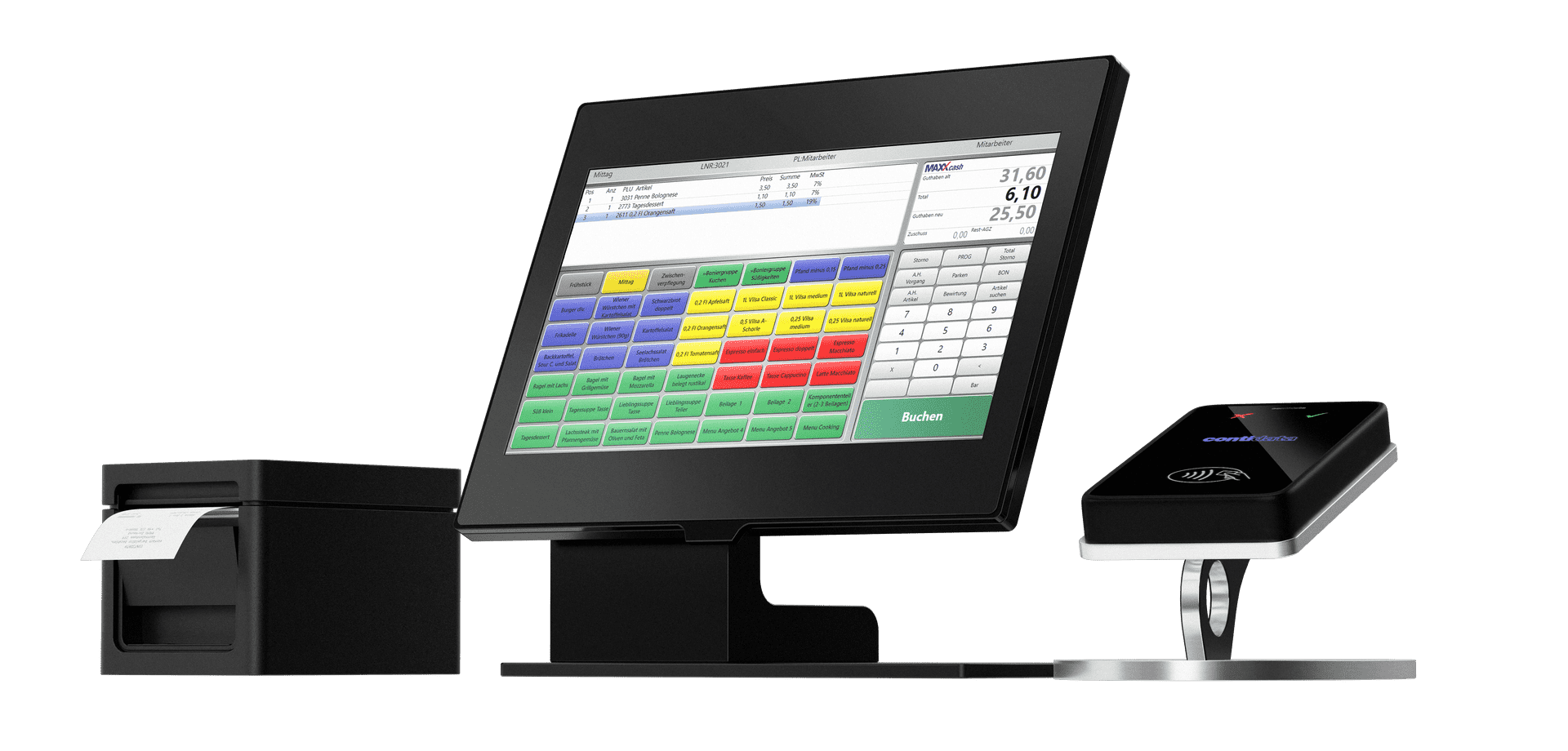 Mobile cash register: For non-stationary point of sales
Our mobile tablet cash register is the ideal tool for use under maximum flexibility. Equipped with a high-quality touch display, this POS device is fit for use anywhere in your canteen, e.g. at the sales trolley or decentralized catering islands such as breakfast buffets or salad bars.
The self-service terminal is characterized by simple, intuitive handling and fail-safe, high-performance. This guarantees a high guest throughput in the shortest possible time without cost-intensive operating personnel.
The mobile version interacts wirelessly with all peripheral devices and can also be controlled via the familiar Maxx-Plan software.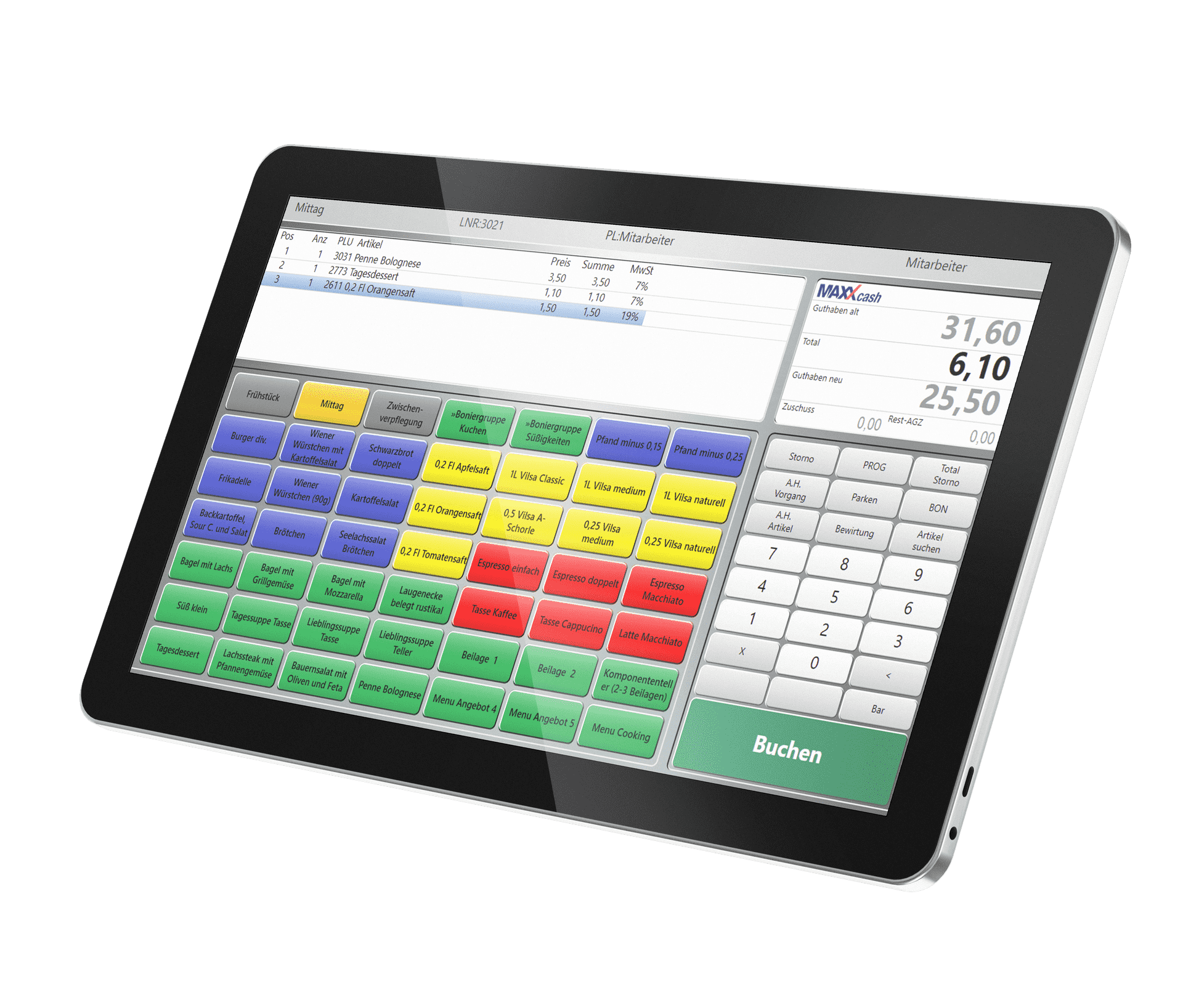 Customized hardware
From barcode scanners and scales to card and RFID readers, we offer you a complete technical system tailored to your needs.
With our range of peripheral devices, we cover everything you need to implement a contemporary and efficient concept in company catering.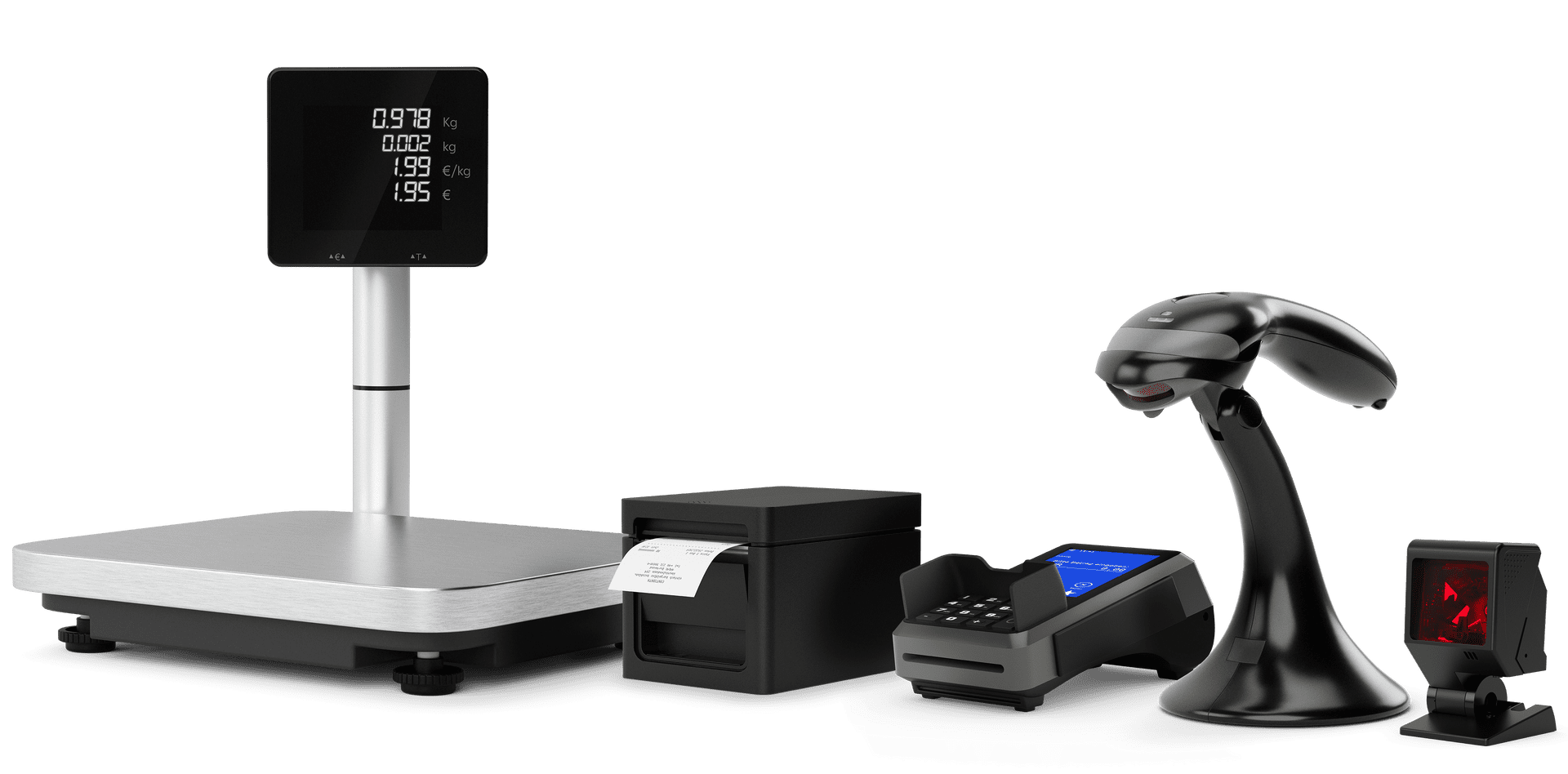 Get advice now without obligation
Simply fill out the form below - straightforward and without obligation. We look forward to assisting you with your project.
Frequently asked questions
In which type of company catering are contidata solutions used?
From single point of sale to multi-site cloud systems in commercial kitchens, we offer solutions for companies of all sizes.
What happens when the Internet goes down?
Our POS systems also work in offline mode, so downtime during operation is not a problem.
I have very special requirements in company catering - can contidata help me?
Yes, for sure. Our consultants are experts in developing complex solution strategies for individual customer needs. As the market leader for POS systems in the field of company restaurants and canteens, we look back on decades of experience with which we can assist you.
How can employees pay at the cash register?
Our POS systems support both cash and EC card payments, as well as payment with chip cards that can be topped up at terminals.
Is the consultation without obligation?
Yes, the first consultation is free of charge and completely without obligation.